Spelling Bee 2018
2 months ago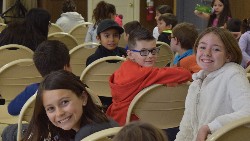 Dyer Elementary School Spelling Bee 01/25/18
2 months ago
Dyer Spelling Bee Champs


Jonathan Hartman, 8th Grade
Perla Jimenez Bautista, 7th Grade
Julian Jimenez, 6th Grade
Daniel Villa, 5th Grade
Tuli Dowers, 4th Grade
Analee Guerrero, 3rd Grade
Aven Scates, 2nd Grade
Mateo Arias, 1st Grade
Christmas Programs
2 months ago
silver peak
Silver Peak Elementary School Christmas Program
The Silver Peak Christmas Program was a success! Santa stopped in for a visit and participated in the program.
Pictures courtesy of Dr. M. Neil Terhune

dyer
Dyer Elementary School Christmas Program
A wonderful Christmas Program held at the Fish Lake Valley Community Center, Dyer Nevada.
Basketball, January 6, 2018, Amargosa Community Center
2 months ago
16th Annual Silver Peak or Bust Hike
2 months ago
Superintendent Makes the Grade
Annual Silver Peak or Bust Hike
Scott Thibodeaux and Cedric Kirby, teammates on the 2007 Tonopah Muckers State championship varsity football team, led the way for the 16th annual Silver Peak or Bust 34 mile Hike. Scott's time was 8 hours and 31 minutes. Richard Torres, John Scates, Delia Scates, Daniel Villa, and Dr. Neil Terhune, Superintendent of Schools, Esmeralda, followed as finishers for the grueling trek. Finishers had to climb 3,000' out of Fish Lake Valley over the Silver Peak Range to the Old School Saloon in Silver Peak, NV. The course is all wilderness with no services over a rugged jeep trail. The hikers started from Highway 264 and Eagle road at 6:00 A.M. sharp in cool 24 degree weather, Saturday October 21.
Other participants were Russel Torres 24 miles, Brian Sanderson 24 miles, Brianna Sanderson 22 miles, Chase Sparks 22 miles, Angela Garcia 18 miles, James Williams 10.7 miles, Yvonne Cornforth 10.7 miles, and other participants that followed or hiked parts of the course. They were Jasmine Simental, Chastin Sparks, Aiden Cornforth, Victoria Villa, Winifred Sanderson, and Bill Kirby.

For the second year in a row, Pete Swan, 70, of Dyer rode his mountain bike to lead the way, finishing first in 7 hours and 30 minutes.

John Scates, Academic School Officer, Dyer Elementary School stayed with his daughter, Delia Scates, 4th grade, Dyer School to set the fastest time for a female student and the youngest female to complete the hike at just 9 years old. Other Dyer School students to participate were Daniel Villa (his 3rd year to finish), Victoria Villa, James Williams, Brianna Sanderson, Russel Torres, Aiden Cornforth, Chase Sparks, and Chastin Sparks.

Trail angels who provided the safety net, water, and nourishment, as much and when needed, included Doug Kile, Theresa Terhune, Debbee Kirby, Bill Kirby, Jessica Villa, Wendy and Brian Sanderson, and Yvonne and Branden Cornforth.

Pizza and refreshments were available at the Old School Saloon in Silver Peak until all finishers came in.

The hike funds provide funding for student extracurricular activities nots funded by taxpayer dollars. Funds contributed some of the money to put finishing touches on the Fish Lake Valley recreation center and are being used to help with the Dyer athletic field. Sponsors are needed. If you wish to become a sponsor, send your donation to the Esmeralda School District, P. O. Box 129, Dyer, NV 89010. Put Hike fund in the memo

By William Kirby
October 14th was the day set aside by for our annual Silver Peak Hike. I did take up the challenge and completed the entire 34 miles in 14 plus hours. I will not do it again. It was only on my bucket list once. Bill Kirby tried to tutor me in a more efficient pace, but I am too old a dog for new tricks. More importantly nine-year old Delia Scates finished it for the first time. All the donations go to our kids and Bill Kirby deserves a lot of credit for the vision and execution of this annual event.
By Dr. M. Neil Terhune
Photo's in this section courtesy of Dr. M. Neil Terhune
National Championship Air Races Field Trip
2 months ago
Superintendent News
The Esmeralda County District (ECSD) participated in a Field Trip at this year's RENO Air Shows on Thursday September 14th. Thirty—six students, grades 4-8, and nine adult chaperones traveled to Stead Air Field to witness world-class pilot air maneuvers, vintage aircraft, and the Science, Technology, Engineering and Math (STEM) Expo. The purpose for this trip was to allow Students from Dyer, Silver Peak and Goldfield an opportunity to put their hands on the newest 21st Century career opportunities in STEM.
Featured offerings in this year's STEM Education Discovery Zone included:
8 flight simulator stations
Drone Flight training area
HTC VIVE Virtual Reality (VR) Zone, including virtual reality flight simulators – letting users virtually pilot an aircraft
Interactive information touch-screens and interactive roving robots of all sizes
Wearable arm computers with special sensors and capabilities
Themed banners/posters on drones, aviation and 3D modeling
3D virtual models of locations across Nevada and the globe"
Our students were well-behaved and genuinely excited to participate in what turned out to be a very long day. I appreciate the assistance of our parents and staff. We are always looking for ways to provide authentic, real world career information for our youth. This trip was well worth the effort. We all extend a special thanks to Mr. Reza Karamooz at the STEM Education Discovery Zone for providing the invitation and the free tickets."
Thanksgiving Celebration
2 months ago
Thanksgiving Celebration
November 21, 2017, Goldfield Elementary School. This was a district-wide celebration with all sites participating. A special thank you to Lissa Michelle Badger and Von's Grocery Store, Bishop, CA for their generous contribution of turkeys and discounted hams. Thanks again to the Staff of the Esmeralda County School District for your continuous support and personal contributions which make our District a success.
Halloween Fun!
2 months ago
Pictures courtesy of Dr. M. Neil Terhune and Winifred Sanderson